Japan often has a reputation of being an expensive country to visit, but it doesn't have to be. There are numerous ways you can travel Japan on a budget. So get ready for some great money saving techniques that could end up saving you a couple thousand dollars! Remember, every yen counts when travelling on a budget. 
Trains are easily the most popular mode of transport in Japan, and it's also the cheapest. Trains can pretty much get you anywhere you need to go in major cities, and can also get to a wide range of cities and towns outside of the major areas via train.
A lot of people want to ride bullet trains when they go to Japan, even if it's just for a short distance. Although we do recommend taking one, it's not best suited for short distance trips, as bullet trains tend to cost a lot more money than the standard trains. For example; A bullet train from Shin-Osaka Station to Kyoto Station, costs 1,420JPY ($12.80 USD), whereas a standard train service, can cost 400JPY ($3.60 USD). Make smart decisions on what trains you want to ride. 
For the Osaka-Kyoto route on the bullet train, it will only take 15 minutes, whereas the standard train lines, will take between 30-50 minutes depending on which service you take. However, Bullet Trains do become cost effective for going long distances. Tokyo station to Kyoto station, will only take 2 hours 15 minutes, but will cost 13,000JPY ($117 USD). If you are going to be travelling over long distances, then you definitely would want a JR Rail pass, as for a fixed price, you can travel of most bullet train lines, including other services such as buses and the Miyajima Ferry. JR Rail passes can be also expensive, with 7 days costing 29,110 JPY (262.72 USD), but are certainly economical if you are going long distances frequently.
If you are planning on travelling long distances, the JR Rail pass the best way for you to save money. Click here to read information of the JR Rail Pass.
However, if you are not planning on going long distances, then the JR Rail pass might not be suited for you, as you will save money by just purchasing the fares individually if you are going from city to city over short distances. Plan your trip out before hand. If you're going to just be in Tokyo for a week, then there is no point in buying a JR Rail pass, because you'd end up spending about $150 more with the JR Rail pass than buying the train tickets one at a time. 
Cycling is quite an effective mode of transportation, particularly around the smaller cities and destinations where trains are less prominent. If you are going to be in Japan for a long period of time around a fixed location, such as living or doing an internship, then cycling will save you quite a bite of money. Although buses and trains are quite each for each individual ride, it does add up quickly. If you are just going around your town, then biking is the best solution as its easy to use, and you can get to your destination relatively quickly. Not to mention, it's also a great way to get some exercise.
If you are staying with a family for a couple days, a week, or longer, then ask if you could borrow a bike to go somewhere you would normally take a bus or a short train to get to. It will help you save a quite a bit of money if you make a habit out of it.
You might be thinking this is crazy, but here us out. If you are travelling long distances, this makes so much more sense than flying. Trains are only economical for a certain amount of time, and as mentioned, the prices quickly add up. 
A bullet train from Osaka to Sendai, will cost 22,740JPY ($205.2 USD), and keep in mind, thats only 1 way! A one way flight between Osaka and Sendai, can cost you as low as 3,100JPY ($28) on sale! Off sale, you can expect a flight between Osaka and Sendai to be slightly higher, usually between 4000-5500JPY ($40-$50 USD). It just makes more sense to fly!
If you are fit enough, and not traveling too far, then you should seriously consider walking! For example, you are at point A, and point B is 2.2km away, most people will just get a taxi to take them there. But taxi's cost a lot of money. If you aren't worried about time, and just want to enjoy the day, then walking from place to place is highly recommended, and you will certainly see and experience more than you would by taking a cab!
Another cheaper alternative to taxi's are the buses. Buses in cities tend to go pretty much everywhere you might want to go, especially popular attractions. Buses come in handy when there are no nearby trains for you to access, and it's too far for you walk there. The buses are priced really well, making traveling across the city very economical. 
Some cities, like Kyoto have a 2 day bus pass for 1700JPY or 900JPY for one day. That pass even includes some lines on the Kyoto subway. The best option if you're going to be in a city for a few days, is to look at what sort of transport passes available as each city has different deals.  
Convenience stores in Japan are lifesavers to those travelling on a budget. You can get some really tasty foods and drinks all for a low price at convenience stores. Now, you might be thinking, 'Eww convenience store food. That's gross', or something along those lines. And to that, we say, you're wrong. 
Convenience store food in Japan is surprisingly quite tasty, with a wide variety of food to choose from for a really low price. You can get things such as fried chicken, spaghetti bolognese, onigiri and even sandwiches, and the best part is, it's all fresh! What's even cooler is that on some foods, like the spaghetti, or gyoza (Japanese dumpling), you can have it heated up in the store so it's piping hot, ready for immediate consumption right there and then!  You can easily fill up on food for less than 500JPY each meal, which saves you quite a bit of money if you were to eat out at a restaurant.
Most convenience stores have free WiFi as well, so if you buy some food, you can sit outside the store and check your emails and messages if the need be.
We all just want to have someone do all the cooking and cleaning once in a while, but this luxury comes at a price. 
Grocery shopping in Japan is actually quite amusing and different from many western countries. There will be a wide variety of products you may never even heard of.  There are so many options for you to choose from when shopping for your own meals, and most of it is pretty cheap. The only thing that can be a little more expensive than most countries, are meats. But even then, you are still going to be saving a lot of money by home cooking a lot of your meals.
3. Get fresh snacks from farmers markets
If you are looking for some delicious fresh fruit for a trail snack, or even breakfast, then you must certainly find a local farmers stall. They will have all sorts of fresh good, all for really cheap! People often think that fruit is quite expensive in Japan because you see all these videos on YouTube with all $100 Grapes or melons. But in reality, if you just want some good quality food like you're used to eating, then these little stalls are a god send! You can even get freshly laid eggs in some stalls! How cool is that? 
A lot of the stalls are unattended, farmers just leave their produce out in the open with a price label, and a small coin box for you to put your money in. All you have to do is just put the coins in the box, and grab what you purchased!
4. Stuff your face at All-you can eat restaurants!
Why bother with 3 meals a day, when you can get yourself a late breakfast and have dinner and lunch combined! I do it every day. I eat 'breakfast' at around 11:30am, and eat my dinner when I get back from the office at around 5:30pm. If you're on the move trying to see as much as you can, chances are that you aren't going to have time to eat at regular times,so all you can eat restaurants are a quick place to get tons of food for a good price. 
There are several types of all you can eat restaurants, but the most popular is yakiniku, which is all about grilling your own meats! You have usually 90 minutes at yakiniku to just demolish as much food as you can eat. These are really well priced – especially if you are skipping a meal! It's economical and it saves a lot of time as well! There are also other all you can eat sushi restaurants, where you just grab the sushi as it's coming past the conveyor belt to the side of the table. 
5. Japanese 'Fast Food' Restaurants
No, we aren't talking about your typical fast food establishments like McDonalds, Burger King etc, we are talking about Sukiya, Sushiro, Katsuya and many more! These restaurants provide very filling meals, and are quite reasonably priced for what they are. For example Sukiya, which sells gyudon(Japanese bowl with rice, meat, and other mix-ins) for as low as 290JPY ($2.60)! Full menu available here.
Likewise, Sushiro, is a very popular sushi train franchise, which sells a plate of sushi (Typically containing 2 pieces of sushi) starting at 100JPY, with the highest food item not even breaking 300JPY. What's great about Sushiro, is if you want to order something not on the train (which is next to your table), then you can order it on the tablet on above the train, and have it delivered to you on the train in no time! Menu pricing and selections found here.
Tip was suggested by Manuel S. on Twitter.
In Japan, tipping is not done very often, and no one expects tips. It is said that workers are paid a fair amount for their services and earn every yen they deserve. If you do try tipping, people will look at you really confused and often refuse your tip. 
1. Cheap secondhand goods at Book Off
There are a large portion of travellers to Japan who will pay full price for anime and video game related goods. Although the retail value is much cheaper to buy in Japan than most other countries, you can still go cheaper. There are a chain of stores nation wide, called Book Off, which deal in second hand goods relating to the mass media. You can get books, manga, anime dvd's, figurines and even technology like watches and cameras! There are even collectors items like rare trading cards (Pokemon, Yugio etc) which you can purchase individually!
These items here are usually significantly cheaper than their retail prices, and they are usually in great condition as well. So if you are looking to score some deals on some cool items, then Book Off is the place to go!
2. Get the essentials at 100 Yen Shops
Looking to buy some pretty cool items for a really low price? Then 100 yen shops are the place to go. These shops sell products ridiculously cheap, all for 100JPY + tax. This is not a solution to all your shopping needs, but they will help you get some essentials for travelling, like laundry bags, eye masks, and other household items which will come in handy. 100 yen shops also come in handy for souvenir shopping, as you can get some cheap Japanese souvenirs like Paper fans or other little crafts – just don't expect the quality to be top notch!
3. Get tax back on large purchases!
If you are on a tourist visa, then you are eligible to receive tax back on some large purchases you may make. Usually anything under 10,000JPY isn't worth it.
If you are buying some sort of technology, then this will definitely help you save money. Malls will usually have tax back shops where you can get tax back on purchases. All you need is your passport with proof that you are a temporary visitor, your product receipt, and the product. It's that simple, and within a few minutes, you could be pocketing some money! 
To give you an example, when I first came to Japan on holiday, I bought a relatively cheap watch for 15,000JPY. That's the retail price. But after I went to the Tax back stall in the mall I was in, I was able to get back about 1,300JPY, bringing the total for the purchase down to 13,700JPY. It's not a huge decrease in price, but every little bit helps!
Believe it or not, talking with the shop owners in rural Japan can actually lead to discounted prices on goods! Now this isn't the most reliable way of saving money, nor will it save you large amounts, but it could help to save a couple dollars here and there. This tip will also usually work when you have Japanese skills, and able to hold a standard conversation easily. 
Anyways, If a shop keeper comes up and starts speaking to you, make sure you are friendly to them and just talk to them while looking at their products. They will likely ask about yourself – where you are from, why you came to Japan, and some other standard conversation topics. Then, when you go to checkout, they might have been so nice to remove the tax off your purchase, or might reduce the price my a couple hundred yen. It does happen from time to time, so it's best that you just be friendly to the shop keeps, and you might get a discount.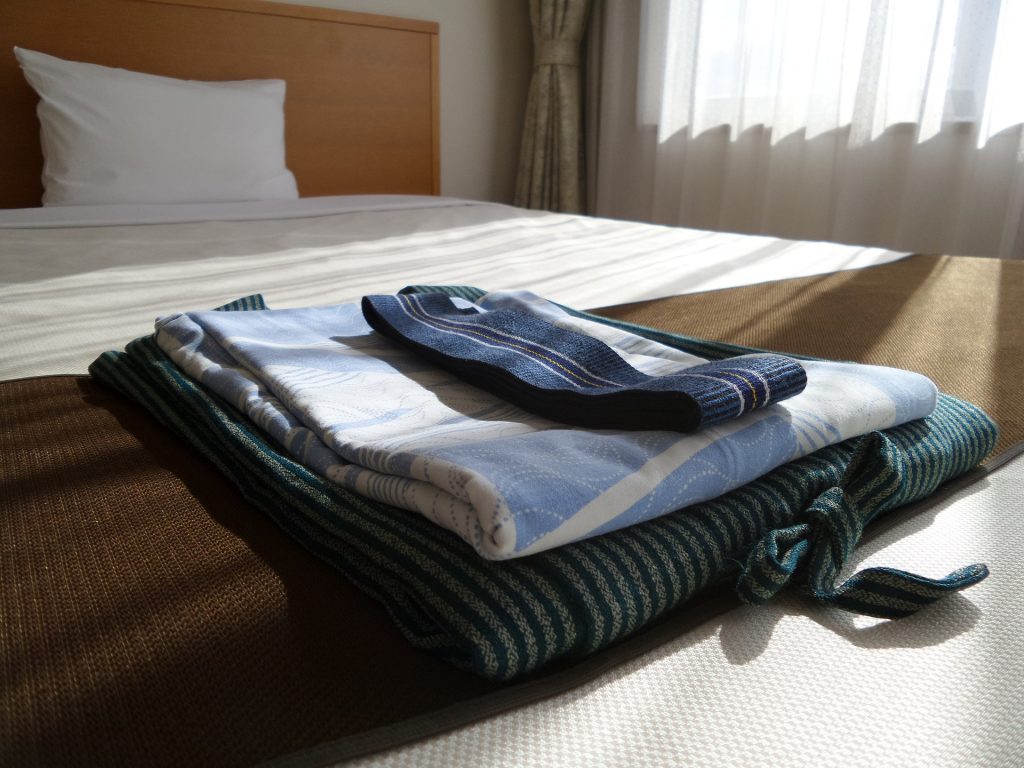 Depending on your age, and country, you can actually do homestay programs which last for 3-6 weeks, where you will actually get to stay was a Japanese family for a couple days to a week. You just pay the homestay exchange program free, and all you need will be taken care of, flights, accommodation, travel insurance etc. Our CEO took part in the Lions Club New Zealand Youth Exchange program when he was 17, which lasted for 6 weeks, costing a mere $3,500NZD ($2,440 USD), that's including flights from his hometown, to Osaka, all domestic travel, a suit and more,. His only expenses were whatever souvenirs he wanted to buy!
So if you are planning on going by yourself to Japan and you are a young adult, then we highly recommend what options you have available in your country and age range, as home staying is an experience you never will forget.
If all your looking for a place to rest your head at the end of a long day exploring the city, when you should definitely consider getting a pod in a capsule hotel. These hotels are very different to your traditional hotel room. Unlike the standard hotels, you basically only have a bed to sleep on, which is fully enclosed and private. You sleep in a pod, or a capsule, and there are several capsules in your room.
You will have shared amenities with the other visitors to the hotel, but they are quite cheap – mainly used for those who live far away and missed the last train to their house, but as already mentioned, if you are just looking for a place to rest your head, then why not try a capsule hotel
While this may not be the best option for those who are only in Japan for a week or two, but this is certainly one of the most viable options if you are staying for a month or longer! You can rent apartments for short term periods, and only have to pay roughly $600-800USD per month for a furnished apartment. Which, may seem like a lot, but keep in mind that a hotel room is usually upwards of $100-200 a night in Japan, so you will definitely save quite a bit of money doing this! A lot of the cheaper, short term places will likely just be sharehouses, which means you have your own private room, but there are common living and cooking areas, and sometimes even common bathrooms/shower rooms. 
For some, the idea of a sharehouse isn't your idea of a good time, but if you are wanting to save big bucks, then it's the way to go. However, sharehouses aren't the best for long term visits. If you are planning on living in Japan for a several months to a year (or longer), then we recommend renting an apartment to yourself. They can cost you between $400-$1000 USD a month depending on the area. These are unfortunately not usually furnished, and they tend to have a minimum lease period. The cheaper ones usually have quite basic facilities, a small kitchen, a toilet and shower room, one small room which you have to use for everything. Again, it's a way you will definitely save money in Japan!
If you are interested in looking at the available options, click here now!
1. Don't buy organized tours
Certainly, tour guides are amazing to have while in Japan, especially if you don't know the language! However, this luxury comes at a cost – a very expensive cost. Often, major tourist destinations have English pamphlets available for free, and they provide you with enough information to get a basic understanding of the destination/attraction you are visiting.  
The best option if you are wanting a lot of travel information, would be to buy a couple guide books on the cities you are going to visit. 
Rather than exploring the hot spots of the prefecture, city, or town, hit the streets and explore what else the city has to offer! It's a great way to see the city for free, and you will leave with a very different perspective than you did coming into the area!
Rural Japan is full of some beautiful sites that you just can't get inside the main cities. Everything from stunning mountain ranges, to monkeys crossing the street, to even historic villages! What makes rural Japan so cheap, is that usually, everything tends to be cheaper as a whole. Houses, fresh produce, food, is all usually quite a bit cheaper in rural parts! For example, Some vending machines in Tokyo charge 170JPY for your standard Cola. But in rural areas, this can be as low as 110JPY in vending machines as well! Yes, the difference in the prices for Cola is nothing significant, but if you look at cafe's in Tokyo, you can get the same item in a rural cafe and pay half as much. 
We Hope you enjoyed this list on the various ways to travel Japan on a budget. If you would like to contribute to this, do not hesitate to contact us with your suggestion!