Quite recently, I've encountered an issue. I've been trying to get my parents to come to Japan to experience the things I have dedicated years upon years fascinated with. Finally, I'm nearing a breakthrough -I think-. Only issue is, my mother thinks that she will starve in Japan, as the most popular Japanese foods that she knows of are Sushi, or the strange ones like basashi (Horse meat). Because Japan is home to some of the worlds finest dishes, I thought it would only be appropriate to show her, and anyone else who loves great food, what Japanese cuisine is all about! With that being said, we hope you enjoy this list of Popular Japanese Foods.
WARNING: YOU MAY GET HUNGRY
Ramen is a noodle dish which has boomed in popularity in the western world over the past decade or so. Ramen consists of noodles, and is typically accompanied by a soft boiled egg, slices of pork, bean sprouts, and bamboo shoots. There are many different varieties of Ramen, with some being Salty, Spicy, sweet, milky and so on. You can usually get a decent sized bowl of this for 800JPY.
Yakitori is chicken dish typically served at Izakayas (Japanese Pubs). Yakitori translates to Grilled chicken, and as it's name would suggest, it is skewered chicken which has been grilled over a barbecue and is usually grilled in various sauces according to the customer's order.
Yakitori is a really cheap and tasty meal, with each plate of grilled chicken being about 300JPY depending on where you go.
Gyoza is my personal favourite Japanese food. It's a type of fried dumpling in Japan, typically served with a mixture of soy sauce and sesame oil which gives the gyoza dough a slight sweet taste, while the insides are full of juicy pork mince and spring onions which create a savory taste.  I love it so much, I once ordered 3 plates of 10 and ate them all! They are typically a side dish as they aren't all that filling. I personally love ordering a small order of 6 whenever I go get Ramen.
Shabu Shabu is similar to soup. A broth is brought to a boil, from there, you add various types of vegetables, typically leeks, bok choy, Enoki (Long, thin & white Japanese mushroom), and then pared with thinly sliced beef, which cooks in the boiling water, releasing the beef fat into the soup as it cooks. This meal is very popular among the locals as the months begin to get colder. Nothing better than going for a walk in the cold of winter and getting a nice filling meal of Shabu Shabu.
Chicken Kaarage is among one of my favourites, it is just fried chicken after all! Chicken Kaarage typically has quite a light batter which doesn't absorb as much oil as a typical KFC fried chicken piece would. Combine Chicken Kaarage with some fresh iceberg lettuce, and a tortilla, and you have yourself one tasty meal.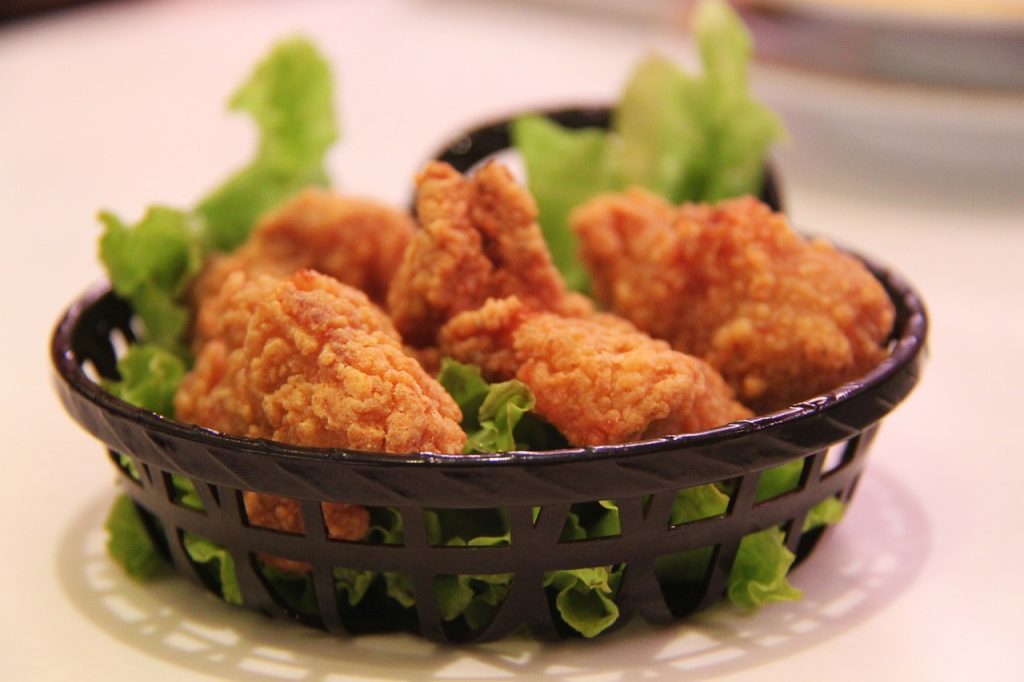 Katsu is similar to the Chicken Kaarage in terms of preparation, but instead of just frying the batter as you would with Kaarage, Panko breadcrumbs are added, and then fried. Katsu comes in many different forms, usually chicken, pork,or beef.  The most popular type of Katsu is Pork, and it pairs nicely with a Japanese Curry. 
7. Omurice / Curry Omurice
One Kyoto Omurice restaurant become quite popular over the past couple years, as a video of their omurice technique went viral. In the video, the omlet was gently placed on top of a rice pile, and then gently sliced open, allowing for the egg moisture to spill over and create a very satisfying finish to the dish. Although it's not always done like that, Omurice is still a fantastic dish. The name refers to a omlet which has been draped over a pile of a flavoured rice, and then served with a sauce. The Curry Omurice, is where the aforementioned sauce, becomes the sauce used in curry, and the mixture off egg, the flavoured rice, and the curry sauce create one tasty dish!
Yakisoba is a very popular dish among families in Japan, and typically involves the whole family coming in and cooking it together as unit. You start off with Yakisoba noodles, Yakisoba sauce, and the rest is up to you from there. Spring onion, leeks, celery, Bacon, red onions, broccoli are just some of the amazing fix ins to have with Yakisoba, but the end of the combinations is limited to your imagination.  Now, this isn't the most healitest of meals, given the amount of bacon typically used, and the oil required to cook the noodles, but it stilll is easily one of the tastiest dishes I've had.
Admittedly,  I wasn't big fan of Dango my first time trying it. To be honest, I have still not fully come around to it. That being said though, ALL of my friends absolutely love it, so it's worthy of adding to list.
Dango is a dish made out of Mochiko, which is rice flour, tofu and some sugar, very easy to make. It's popular in spring when the cherry blossoms are visible as people will often buy it as a snack during the spring festivities.  It pairs well with Japanese Green Tea.
Wagyu is a type of beef that comes from any of the 4 main cow breeds in Japan. These cows produce high quality beef, and have a beautiful marble texture created by the fat which is lathered through the slice. Due to the low melting point of the fat (which melts at temperatures before room temperature), you end up with one of the juiciest steaks you'll ever eat, which -pardon the cliche- does literally melt in your mouth. Wagyu beef is typically an expensive cut of beef, which the lowest cut of beef can cost around 2500JPY ($25USD) for 100g.
So hopefully, if you were a little skeptical of Japanese food, we hope that we were able to pull you out of your shell just a little bit, and open your eyes to the wonderful variety of Japanese cuisine. If you found this post useful, then consider subscribing to our weekly newsletter, where you will be the first to know all the new destinations and articles released during the week. In addition, you get access to other content, such as the Japan photo of the week, cool and interesting facts about Japan etc.