Kyoto is quickly becoming one of the world's tourism hot-spots. With it's seemingly endless stream of activities to do while in the city, it's not hard to see why the city has become so popular, so quickly. On this short list, you will find the absolute must dos while you are in the city, even if you are only there for a day, you should definitely try visiting at least one of them! Without further ado, here is the list for the top attractions in Kyoto that you must see!
Fushimi Inari Taisha (Fushimi Inari Shrine)
Fushimi Inari Taisha is without a doubt the top attraction in Kyoto, with tens of thousands of visitors daily. The shrine is so popular due to the some 10,000 bright orange torii gates which line the pathway and scales a small mountain. While you have to be a very patient photographer to get a photo without anyone in it, but it is certainly doable should you decide to scale the mountain to the top.  You can make it to the top and back in about 1 you if you are rushing, but an hour and a half is easily do able. At the bottom of the shrine, you can find an endless stream of souvenir shops to spend a whole ton of money at as well. 
Kinkaku-ji (Golden Pavilion)
The golden temple is one of the top attractions in Kyoto for a very good reason. While it many not be the easiest to get to, for only 400 JPY, you can take a short walk through the kinkaku-ji gardens and observe the UNESCO World Heritage Site in all it's glory. The Walk in the gardens will only take about 20-30 minutes total to complete, providing that you take your time and check out the little souvenir shops along the way. 
The Temple has a history which dates back to 1397, making it older than the golfball by 3 years.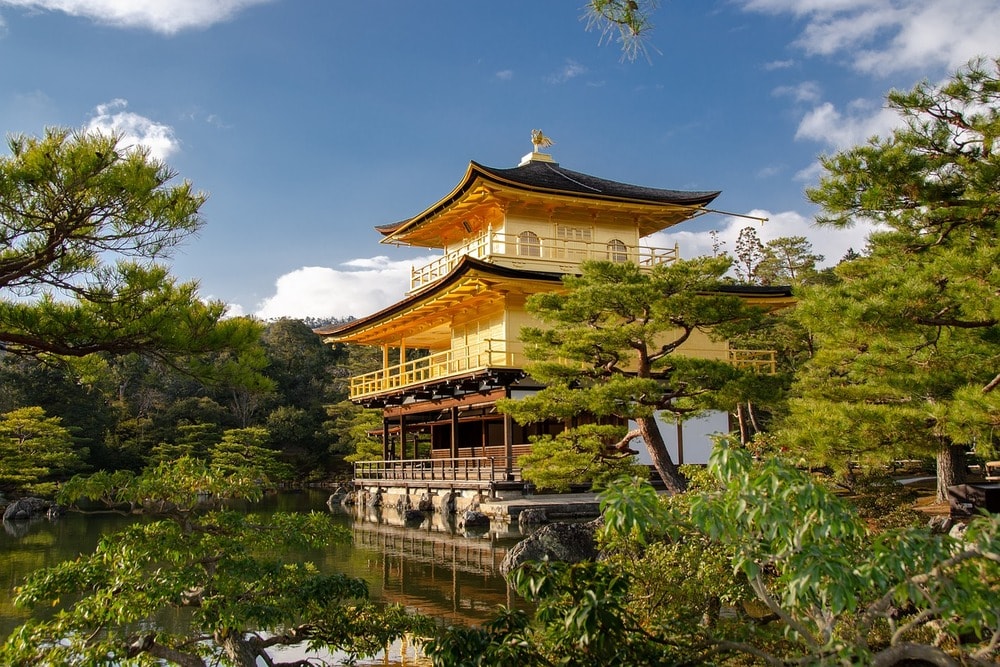 The Arashiyama Bamboo Grove is just a short 5 minute walk away from JR Saga-Arashiyama Station, allowing for easy access from Kyoto Station. As it's name wold suggest, it is a bamboo grove, and a massive one at that. One side to the other should take about 20 minutes of walking, and is one of the most highly sought after photography spots in Kyoto, right after Fushimi Inari Taisha. 
Like Fushimi Inari Taisha, it is also free to access, so if you are travelling on a budget, then the Arashiyama bamboo grove is perfect for you. This areas easily makes it onto the list of the top attractions in Kyoto.
Renovation Notice
The area is currently undergoing renovation to the main hall, meaning that any photos that you get of the temple will not look exactly as it is pictured. Renovations are expected until 2020.
Kiyomizudera temple, which translates roughly to fresh water temple, stands on the western side of Kyoto on the side of a mountain. It get's its name from the spring fed creek which the temple was purposely built on. As you approach the temple, you can find the waterfall with the water from the aforementioned spring., which has 3 streams flowing down. It is said that if you drink from one of these streams, you will have good luck. Drinking from all 3 is frowned upon as it is an indicator of selfishness, and you will not receive good luck if you do.  After passing through the waterfall, you will approach the main temple, which offers stunning views of the Kyoto skyline.
Planning a trip to Kyoto? We can help you out a little by providing you with some accommodation options via our business partner Booking.com to help make things easier for booking accommodation in Japan. These hotel rooms are going at a hot price, snap them up now before someone else does!
And Now back to the list of Top Attractions in Kyoto!
The Gion Distrcit is a famous historic entertainment district, full of Geishas. Geishas are performing women, who basically did whatever their master desired. Now a days, their actions are purely limited to singing, dancing and cultural performances. 
This area is very lively when the sun goes down as tourists – both domestic and international, flock to the theatres and restaurants which have Geisha performing in them. In addition, there is also the Kiyomizudera temple nearby, so you can easily make an afternoon out of the two.
Mr. Yamasaki's Ramen Tour
Mr.Yamasaki's Ramen Tour is one of a kind. See, Mr. Yamasaki LOVES Ramen, so much so, that he writes for a website called Sharing-kyoto.com and has basically eaten at, and reviewed every Ramen restaurant in the city. Mr.Yamasaki has the Kyoto ramen scene in Kyoto down pack, so he will ensure that should you decide to go on his Ramen tour, you will not be disappointed what so ever. I had the pleasure of taking Mr.Yamasaki's ramen tour and it was without a doubt the best lunch I've ever had. To take Mr. Yamasaki's Ramen tour, message @MrRamen4 on twitter, and someday you too could be dining on the top Ramen in Kyoto.
Yasaka Shrine & Maruyama in the Late Evening
Yasaka Shrine  & Maruyama park are an absolut must see as the sun is setting and night begins to take over. This is because both areas are illuminated with lanterns and lights which provide some beautiful sightseeing. While the daytime is perfectly suitable for visiting, visiting these areas when the dark begins to take over is truly awe-inspiring.
In Maruyama park, there is a tree called the weeping willow tree, which left me speechless the first time I saw it when it was fully in bloom. Luckily, the area is located very close to the Gion district, making the Gion District, Yaska Shrine, Maruyama park and Kiyomizudera temple a day jammed pack full of a great time.
We hope that your enjoyed our list on the top attractions in Kyoto, we certainly had a lot of fun making this article and we hope that you find it useful for creating your itinerary for Kyoto. If you feel like we missed something, then feel free to contact us on twitter @offthetrackjpn or on our email [email protected] and let us know how we can improve our list!
Want to see more of what Kyoto has to offer?
Of course you do! Click here now to see what the rest of Kyoto prefecutre has to offer In addition, we are currently writing a comprehensive trave guide for the city, and we are nearly done. We are predicting that it will be ready the 1st of April. Stay tuned for it's release!