Japan boasts an incredibly rich and ancient history.Its primary religion, Shintoism appears a lot in this history and to understand Japanese history and culture an understanding of Shintoism is very much necessary. Because it is such an old and storied religion, Shintoism boasts an enormous amount of shrines and sacred sites.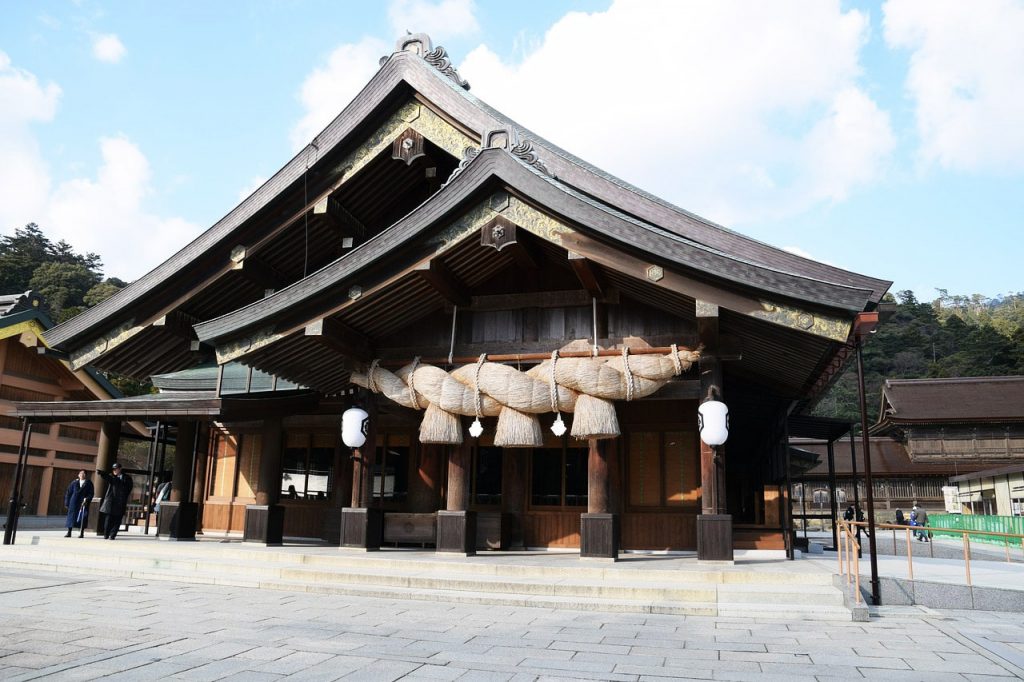 One of the oldest and arguably most important of these shrines is Izumo Taisha.
Izumo Taisha is in fact so old that there is no record of its founding. To visit Izumo Taisha (Taisha is a classification of shrine. It roughly translates to 'grand shrine') is to walk in the footsteps of millions from the present through to ages past, before even Buddhism took its first steps out of India.
Izumo Taisha isn't just old however, its big too. In fact at one time in its life it was the tallest building in Japan, built on massive Cyprus. stilts raising it more than 50 meters into the air. Although this rendition of the shrine has long since ceased to exist the current version is still one of the most impressive traditional buildings in Japan. 
Perhaps the most noteworthy thing about Izumo Taisha is the enormous rice straw rope that is draped across the entrance of the shrine to the left of Izumos main shrine. This rope, known as a Shiminawa is the biggest of its kind in Japan and also the site of Izumo Taisha's most popular picture spot. Its also the site of what I am assuming is the largest flag pole in Japan, its scale is very impressive.
The main shrine is just beyond the entrance buildings and consists of three large inner shrines encircled by a wall. You can't actually enter the main shrine; most Japanese pray near one of the entrances instead. At most Shinto shrines, the common prayer ritual involves bowing twice, claping twice followed by the ringing of a bell to summon the attention of the gods. However, Izumo Taisha is unique in that worshipers clap four times not two. This is worth noting when visiting as it's a very important part of Izumo shrine culture.
The best time of year to visit Izumo Taisha is during November which is known in Japan as the month of the gods. This is because during this time the Japanese believe that all the Shinto gods come to Izumo for a month long conference, hence the need for the heavenly apartments next to the inner shrine. During this time there are many festivals and events in Izumo so it is definitely worth a visit, however be warned that accommodation is limited. 
Getting to Izumo is relatively simple. There is a bus from Hiroshima station that will get you to the shrine itself in about two hours. The bus leaves every hour or so from right outside Hiroshima station. There is also a limited express train to Izumo station from Okayama station. I had to take this on the way back as I misread my bus ticket. It takes about three hours and costs about 5000 yen. The bus is approximately 3000 yen one way. There is a separate Izumo Electric Railway train from the main Izumo station to Izumo Taisha, you will need to go to a separate building to get on it and buy a ticket there. It costs about 500 yen one way.
Matsue Castle, Matsue City in Shimane Prefecture, is one of the only standing castles from Japan's Feudal Era. Construction of the castle began in 1607. Matsue Castle is built only 800m away from Lake Shinji. The 5 stories of the Castle and the small hill the Castle is built atop, provide stunning views of Matsue City, and Lake Shinji from the observation deck on the top floor.