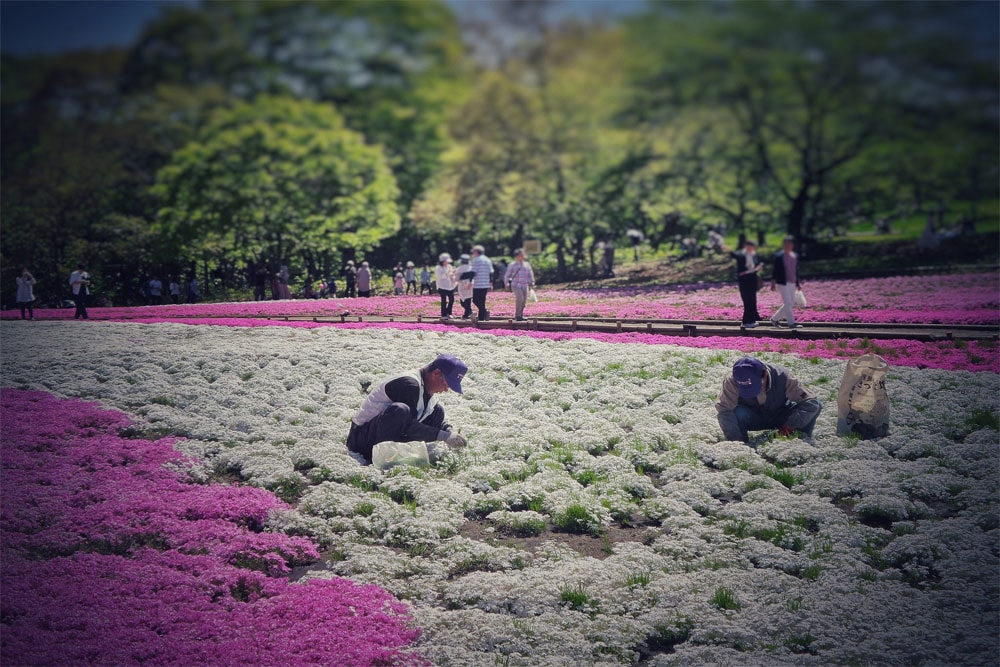 Hitsujiyama Park, located in the south end of Chichibu city, Saitama Prefecture, is a park which sky rockets in popularity during spring, when the pink moss begins to blossom, encompassing large areas of the park in the beautiful and vibrant colours. The Park hosts a festival to see the beautiful colours up close every year in a festival hosted by the locals. In 2020, the festival dates are April 10th, to May 4th, 2020. So if you are in Tokyo at this time, then we encourage you to take the trip out of Hitsujiyama Park.
The species of plant is known as Shibazakura, and there are over 400,000 Shibazakura plants in Hitsujiyama Park, spread across different 9 different breeds of this moss, each with a slightly different colour than the next one. As you can imagine, the Shibazakura create quite the display which sees tens of thousands visiting the park during the festival dates.
Accessing Hitsujiyama Park
The closet train station to Hitsujiyama Park is Seibu-Chichibu Park, which is about a 15-25 minute walk away from Hitsujiyama Park. 
Coming from Tokyo, the journey is a little long, with it costing about 980JPY One Way for the standard train fare to the city, and would take about 2.5 hours to reach it from Tokyo. Around the park there is a nice river walk and a couple museums so if you do come to Hitsujiyama Park, make sure you visit the other things to see and do to make the trek.
Where To Stay near Hitsujiyama Park
Input your travel dates to see what's available for accommodation nearby!
The Saitama Railway Museum is a fun place for adults, children and train lovers to have some fun and learn about the history and use of trains in a very practical environment.
Are you planning a trip to Japan soon? Then you really should consider purchasing a JR Rail Pass, especially if you are planning on hitting all the major tourist cities like Tokyo, Kyoto, Osaka, Hiroshima, and Sapporo. 
The JR Rail Pass makes getting around the country easy, and can save you several hundreds in travel expenses. All you need to do is just show your pass at the ticket gate, and you have access to any and all JR rail lines across the country, and not just the standard commuter trains, but luxury trains, and even the world famous Shinkansen (Bullet Train). A JR Rail Pass is an essential item for any visitor to Japan. Buy your pass today by clicking here now!